2022 Walk to End Lupus Now, Indiana
Event Date & Time: Saturday, October 8, 2022, 12:30-4:00 pm
Please note Military Park location is the same location where the Walk was held in 2019.
Check-in: 12:30 | Ceremony: 1:30 | Walk: 2:00 | Route Length: 1-mile (Route Map)
We're so excited to be back in person this year with our first in-person Walk since the start of the COVID-19 pandemic! Supporting health and safety during Walk Day is incredibly important so we wanted to share the protocols we've put in place for a health-safe Walk environment.
What we are doing to support a health-safe Walk environment:
Hand sanitizer available for use in all tent areas
Extra masks available at check-in and t-shirt tent
Additional spacing between team and vendor tents
Expanded and/or additional registration/donation drop-off area
No face painting in Kid Zone
Pre-packaged food only, no open containers in refreshment area
Volunteers required to wear masks in high-traffic areas such as check-in, refreshments and t-shirt pickup. All volunteers should know the symptoms of COVID-19 and be advised to check themselves for signs (including fever, cough, headache, body aches, loss of sense of taste and smell), and stay home if they are sick.

How to avoid the crowds on Walk-Day:
Register yourself and your team members in advance online
Mail donations in advance or after Walk Day by completing the offline donation form and mailing to Lupus Foundation of America, Indiana Chapter, 9302 N. Meridian St., Suite 203, Indianapolis, IN 46260
Earned your Walk t-shirt or Trailblazer Medal? Contact our office at 317.225.4400 or info@lupusindiana.org about pre-Walk pickup options
Don't feel comfortable attending in person? Rock your purple and walk in your neighborhood or local community.
We want you to feel comfortable on Walk Day, whether you join us at Military Park or walk in your community. If you have any questions or concerns please contact us. And, we encourage you to consult your care team for any specific guidance for your personal situation. Thank you for your support of the Walk to End Lupus Now and the LFA-IN Chapter!
Please be aware there are no picnic tables in Military Park - attendees are encouraged to bring their own chairs and blankets if they wish to spread out in the grass! Please note that the only food available at this year's Walk will be snacks and water before the Walk so feel free to bring a picnic lunch! You're also welcome to bring a pop-up tent.
Registration: There is no cost to register for this year's Walk to End Lupus Now, however, this is our largest fundraiser of the year so registered walkers will need to raise or donate $50 to receive the 2022 Walk t-shirt.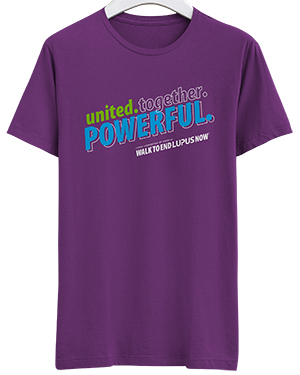 If you register and fundraise or donate $50 by Thur, Sept 15th, your t-shirt will be available for pickup on Walk day. T-shirts for people who register and donate/fundraise after Thur, Sept 15th, and t-shirts for virtual walkers will be ordered separately and sent after the October 31st Walk fundraising deadline.
All walkers must register. Online registration will close at midnight on Thursday, October 6th, however, registration at the Walk on October 8th is accepted!
Fundraising Incentives: In addition to individual fundraising incentive prizes, the team captain of the top fundraising team and the top individual fundraiser will receive a $100 Amazon gift card, and the team captain with the most registered team members will receive a $50 Amazon gift card.
Parking: IUPUI is allowing us to use two parking lots (83 and 85) across the street from Military Park, and they will be collecting a $10 cash parking fee. Approximately 700 spaces are available in these two lots. Senate Avenue Parking Garage is also nearby. Download Parking Options Map
Military Park Layout: Download map to help you see where everything will be on Walk day!
Miscellaneous: There will be lupus merchandise for sale - credit card payments and cash will be accepted.
Entertainment: DJ Godzillest will be spinning tunes to keep us moving; there will be 2 balloon artists, 2 caricature artists and a walk-around magician; the Indy Blue Crew will be on-site with their Colts Firetruck; and Karen Campbell, anchor/reporter from WTHR, will be leading us in the pre-Walk warm-up!
Walk Exhibitor Opportunities
If your organization would like to have an exhibit booth at the Walk to provide information on your organization or services, please complete and return the Exhibitor form.

2022 Walk Exhibitors
Juice Plus+ (Karen Farrell - Lupus Warrior)
Creatively Glossy (Tiana Mumford)
Event Contact: Brian Rothenberger | 317.225.4400 | brian@lupusindiana.org
Walk Chair: Karen Deno Co-Chair: Crystal Bradley