Saturday, April 21, 2018
Georgia State Stadium | 755 Hank Aaron Drive SE. Atlanta, GA 30315
Check-in: 8 AM
Walk: 10 AM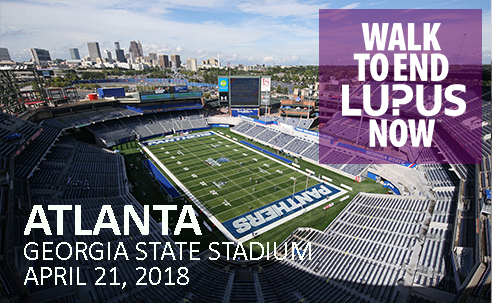 On Saturday, April 21, 2018, we will hold the Walk to End Lupus Now™ in Atlanta. You can raise funds and help us reach each our goal of $550,000! Join thousands of others impacted by lupus to recognize those living with lupus, honor those we've lost, and fulfill our vision of a life free of lupus.
Parking
We will have plenty of parking at the stadium in the Green, Blue, Gold and Orange lots. See map.
Team Tents and Tailgating
The Red lot will be available for team tents and tailgating. Please read the Georgia State Stadium Tailgating Policies.
Check-In and Walker T-Shirts
Tents will set up along Georgia Avenue which will be closed to driving traffic.
Food Trucks
You can purchase food at one of the vendor food trucks which will also be set up along Georgia Avenue.
Victory Plaza
The stage entertainment, vendor booths and information tents will be set up in the plaza. We will also have a designated team photo station in the plaza.
Photo Booth for Walkers Who Earn $500 and $2000 Signs
We're trying something new and exciting this year! We will have a photo booth set up in Victory Plaza for all walkers to pick up their signs and get their photos taken! All photos will be available online to download for free!
Walk Route
We are going to walk around the outside of the stadium along Georgia Ave., Pollard Blvd., Bill Lucas Dr. and Hank Aaron Dr. Due to security restrictions; we will not be entering the stadium.