THIS SATURDAY, MAY 4th
NC MUSEUM OF ART
2110 Blue Ridge Road Raleigh, NC 27607


CHECK IN TIME: 9:00 AM WALK BEGINS: 11:00 AM
---
The 2019 Raleigh Walk to End Lupus Now is this Saturday! Can you believe it's already here?! IT'S GOING TO BE A POWERFUL DAY IN THE FIGHT AGAINST LUPUS! For those of you who have not registered, there's still time. On-line registration will close at 1:00 noon on Friday. If you miss the cut off - you can still register on-site at the Walk on Sunday.
WALK DAY INFORMATION
REGISTRATION: This year there is a $10 Registration Fee for individuals 13 years and older. Children who are 12 years and younger are free. Scholarships are available for those who cannot afford this fee. If you are not registered before 1PM on Friday, May 3rd, you will be required to register on-site and pay the registration fee.
PARKING: Enter the parking lots of the NC Musuem of Art from Blue Ridge Road or Reedy Creek Rd . Free parking is available in the designated parking lots of P2 and P3. NO street parking allowed. Here's the link to the Parking Map. Once parked, make your way towards the amphitheater area for check-in.
CHECK-IN: Please look for the "Registration" tent and let us know you have arrived. You MUST come through registration if you are one of the following: 1) a walker that did not register prior to the event or 2) a walker making a donation or turning in funds raised. There is a registration fee of $10 for those who are 13 years and older.
ROUTE: You'll make your way around the beautiful NC Museum of Art. We have a long route and a short route this year to accommodate our walkers. You can enjoy the entire 1.25 mile route together with your friends, family, and teammates or do the short route which is approximately 1/2 mile. Here is the link to the Route Map. Feel free to make copies and distribute to your team members.
TEAM PHOTOS: Will be taken under the Start Line Arch before the walk begins; gather up your team and stop by for your picture.
WEATHER: Walk to End Lupus Now is a RAIN or SHINE event. Lupus doesn't take a day off, so neither can we. The weather forecast for Saturday is calling for partly cloudy with a high of 87 and a 50% chance of scattered thunderstorms in the afternoon. We suggest bringing sunscreen, a hat, walking shoes, and a rain jacket (just in case!). Participant safety is top priority. In the event of severe weather, cancellations or delay, we will post any weather related news on our website and notify all participants via email and phone.
BRING A PICNIC: There will be hydration and finish line snacks provided, but if you are looking for more of a meal, we encourage you and your team to pack a picnic and stay for the Finish Line Celebration.
WHAT YOU CAN BRING: You are welcome to bring your lawn chairs, folding tables, blankets, and coolers to enjoy an empowering day of hope, passion, and entertainment.
WHAT NOT TO BRING: NC Museum of Art does not allow the use of personal tents or on-site cooking equipment at the walk due to fire/safety hazards, as well as NO PETS.
THANK YOU TO OUR SPONSORS: The walk would not be possible if it were not for our amazing sponsors. View full sponsor list.
---
2019 INCENTIVE PRIZES
RAISE $100 = GET A T-SHIRT: All those who raise $100 by walk day, will receive their t-shirt at the event. Fundraising will stay open for 30 days after the Walk to allow everyone the opportunity to earn additional prizes. (Additional prizes are mailed after the fundraising deadline.)
T-SHIRT FAST PASS: All participants that raise their $100 or more prior to 1pm on Friday, May 3rd will be emailed a Fast Pass. This pass allows you to skip the check-in lines at the Registration Tent. Present your Fast Pass hard copy or on your mobile device at the T-shirt Tent to claim your t-shirt. If you do not receive a Fast Pass visit the Registration Tent to receive your t-shirt voucher.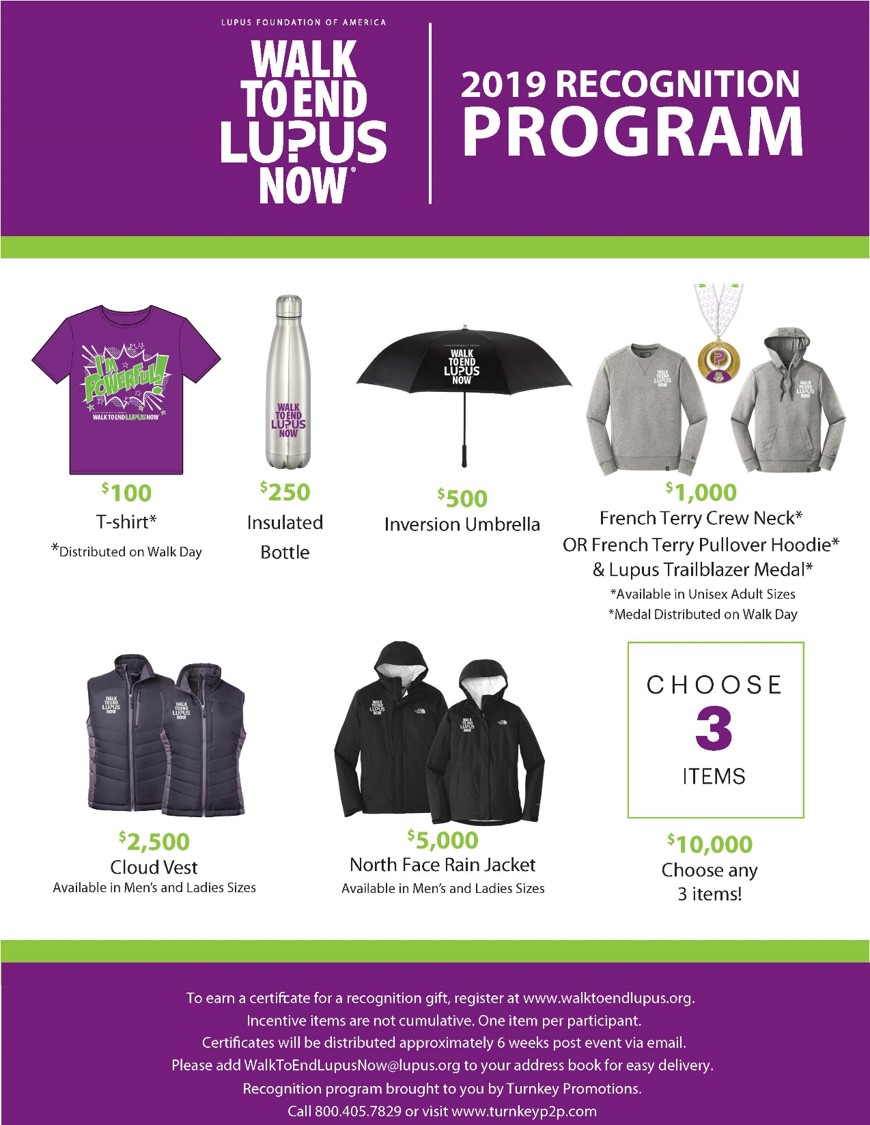 For more information on our prizes, contests, and fundraising deadlines, click here.
---
REGISTER OR LOG IN TO START FUNDRAISING TODAY