THIS SATURDAY, MAY 5TH
Central Piedmont Community College
Belk Plaza: Philip L. Van Every Culinary Arts Center
425 North Kings Drive, Charlotte, NC 28204


CHECK IN TIME: 9:00 AM * OPENING CEREMONY 10:30 AM * WALK BEGINS: 11:00 AM
---
The 2018 Charlotte Walk to End Lupus Now is this Saturday! Can you believe it's already here?! IT'S GOING TO BE A POWERFUL DAY IN THE FIGHT AGAINST LUPUS! We have already raised $79,000 which is over 60% of our $130,000 Goal. Currently we have 835 walkers registered. If every walker secured a gift, or multiple gifts, totaling $65 we would exceed our goal by walk day.
Wouldn't it be great to hit $130K

BEFORE

walk day? We can do this!
For those of you who have not registered, there's still time. On-line registration will close at 12:00 PM on Friday afternoon. If you miss the cut off, you can still register on-site at the Walk on Saturday.
WALK DAY INFORMATION
PARKING: Free parking is provided at CPCC in the following areas (CLICK HERE for a link to a campus parking & our route):
Student Parking Lot #6 next to Memorial Stadium, on the corner of East 7th St. and N Kings Dr.

Student

Parking Deck #1 and Faculity Parking Deck #22, both located on East 4th St.

H

andicap parking will be located in Student Lot #4 on the corner of Pease Ln. and N Kings Dr.
CHECK-IN: Please look for the "Registration" tent. You MUST come through registration if you are one of the following: 1) a walker that did not register prior to the event or 2) a walker making a donation or turning in funds raised.

ROUTE: You'll make your way around the beautiful CPCC campus and streets surrounding uptown Charlotte. Enjoy the entire 1.25 mile route together with your friends, family, and teammates. Here is the link to the Route Map. Feel free to make copies and distribute to your members. FYI: PLEASE REMAIN ON THE SIDEWALKS. We do NOT have a permit to walk in the streets.

TEAM PHOTOS: Will be taken under the Start Line Arch before the walk begins; gather up your team and stop by for your picture.

WEATHER: Walk to End Lupus Now is a RAIN or SHINE event. Lupus doesn't take a day off, so neither can we. The current weather forecast for Saturday is cloudy, with a high near 84. As we said, our walk is a rain or shine event, so watch the forecast and dress and accordingly.

BRING A PICNIC: There will be hydration and finish line snacks provided, but if you are looking for more of a meal, we encourage you and your team to pack a picnic and stay for the Finish Line Celebration.

WHAT YOU CAN BRING: You are welcome to bring your lawn chairs, folding tables, blankets, and coolers to enjoy an empowering day of hope, passion, and entertainment.

WHAT NOT TO BRING: CPCC does not allow the use of personal tents or on-site cooking equipment at the walk due to fire/safety hazards.

THANK YOU TO OUR SPONSORS: The walk would not be possible if it were not for our amazing sponsors. View full sponsor list.
---
2018 INCENTIVE PRIZES
$100 = GET A T-SHIRT:
All those who raise $100 by walk day, will receive their t-shirt at the event. Fundraising will stay open for 30 days after the Walk to allow everyone the opportunity to earn additional prizes. (Additional prizes are mailed after the fundraising deadline.)
T-SHIRT FAST PASS: All participants that raise their $100 or more prior to 12pm on Friday, May 4th will be emailed a Fast Pass. This pass allows you to skip the check-in lines at the Registration Tent. Present your Fast Pass hard copy or on your mobile device at the T-shirt Tent to claim your t-shirt. If you do not receive a Fast Pass visit the Registration Tent to receive your t-shirt voucher.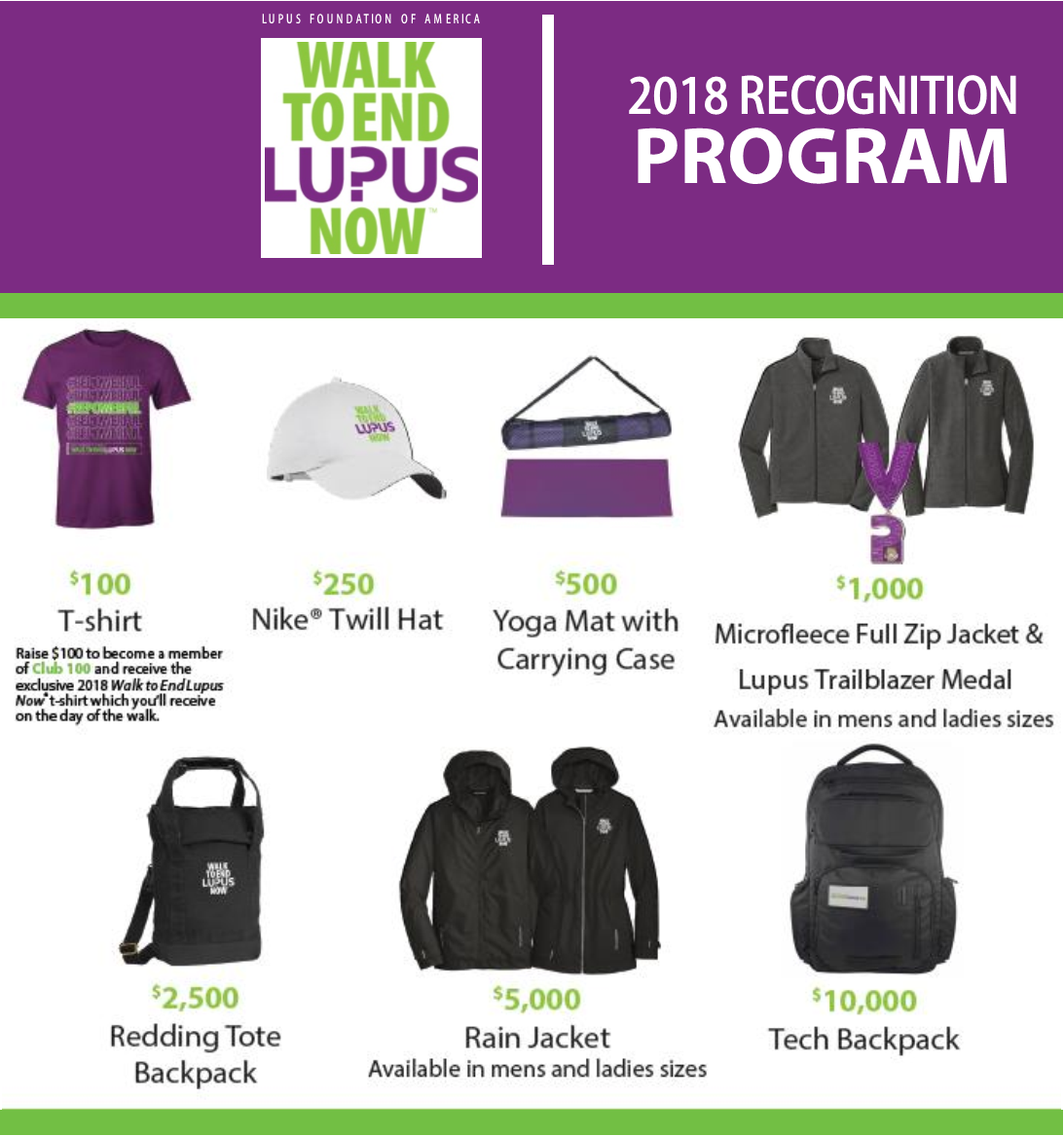 For more information on our prizes, contests, and fundraising deadlines, click here.
---
REGISTER OR LOG IN TO START FUNDRAISING TODAY